Meet our Trinity Place teammates
Stephanie Herrin-Huneycutt
Administrator
Stephanie Herrin-Huneycutt has more than 25 years of experience in long-term care. She has a BA degree from University of North Carolina Charlotte. Mrs. Herrin-Huneycutt's long-term care experience includes management of skilled nursing facilities, assisted living communities, and local senior community alternative programs. She is a member of the local Rotary Club and is an active participant of the Community Advisory Board.
Jennifer Teeter
Medical Records Director
Jennifer has been with Trinity Place for almost 21 years. She began her career as a Ward Clerk/Secretary in 2000 and has made her way up to Medical Records in the fall of 2009. She has been married to her high school sweetheart for almost 15 years, and the couple have two sons. In her spare time, she enjoys watching her sons play soccer, swimming, fishing, and spending time with her wonderful family.
Elaine Story
Director of Admissions and Marketing
Elaine is the director of admissions and marketing. She facilitates admissions by assisting residents and their families as well as hospital case managers to navigate the process and make admission as easy as possible. She also markets in the community to increase awareness of the services Trinity Place has to offer. Her history with Trinity Place, formerly "Lutheran Home," began in 1978 when her 4H group held meetings there. Once the opportunity to interact with residents presented itself, she fell in love and began volunteering. Her first job at age 16 was as a nursing assistant at the facility after school and on weekends. Her love of this population would guide her path as an adult. Elaine now has over 23 years of service at Trinity Place. Elaine is also a wife, mother of four, and grandmother of two who enjoys spending time with her wonderful family. She enjoys reading, fishing, kayaking, and going on trips to the North Carolina beaches and mountains.
Jamie Eudy
Program Manager of Rehabilitation Services
Jamie R. Eudy is a physical therapist assistant and the program manager of rehabilitation services for Trinity Rehab. In this role, Jamie leads a team committed to changing the lives of our patients to improve their quality of life and function. Jamie manages a clinical team that provides physical, occupational and speech therapy services. Jamie has spent 22 years serving in this clinical and operational role at Trinity Place. Jamie lives in the Oakboro community of Stanly County with her husband, daughter, and son. She enjoys traveling, outdoor adventures, gardening, and sporting events.
Todd Rogers
Director of Nursing
Todd Rogers has over 34 years of experience in long-term care. She has been employed with Lutheran Services Carolinas for over 24 years serving as Director of Nursing at Trinity Place and Trinity Oaks. She received her Associate Degree in Nursing from Stanly Community College. She is board certified as a gerontological nurse through the American Nurses Credentialling Center.
Dolores Walker
DIrector of Environmental Services
Dolores Walker has been the Director of Environmental Services at Trinity Place since 2019. She has 20 years of environmental service in long term care. Dolores enjoys providing seniors and their family with a safe and clean environment. In her free time, Dolores creates floral arrangements, crafts, and loves to spend time with her grandchildren.
Joyce Hathcock
Business Office Manager
Joyce has been with Trinity Place since 1986 when she began as the medical records director and then in 1988 changed to accounts receivable/business office manager. She graduated in 1984 as a medical office assistant from Wilkes Community College. Joyce worked as a CNA prior to her career at Trinity Place and currently has over 35 years of experience working with the elderly. Joyce's goal and focus is to provide families with information in regards to programs that are available to help with nursing home costs and to have accurate billing for their loved ones.
Lisa Clayton
Social Worker
Lisa has been working in long-term care for 26 years. She was a Social Worker in skilled care for 20 years, and an Activity Director in assisted living for 6 years. She graduated from Wingate College with a bachelor's degree in Sociology. In her spare time, she enjoys volunteering for two animal rescue groups in Stanly County.
Cora Ingle
Life Enrichment Director
In her role as the Life Enrichment Director, Cora develops and plans the activity programs for Trinity Place residents. When she brainstorms ideas for activities her goal is to reflect the vast interests of the residents and provide them with meaningful and life enriching activities. Cora has been a part of the Trinity Place family since 2015. She enjoys planning events and watching the residents live life to the fullest. Cora stays active by volunteering and spearheading projects that involve the community in resident daily life. She has an associate degree from Stanly County Community College and healthcare activity director education from Central Piedmont Community College.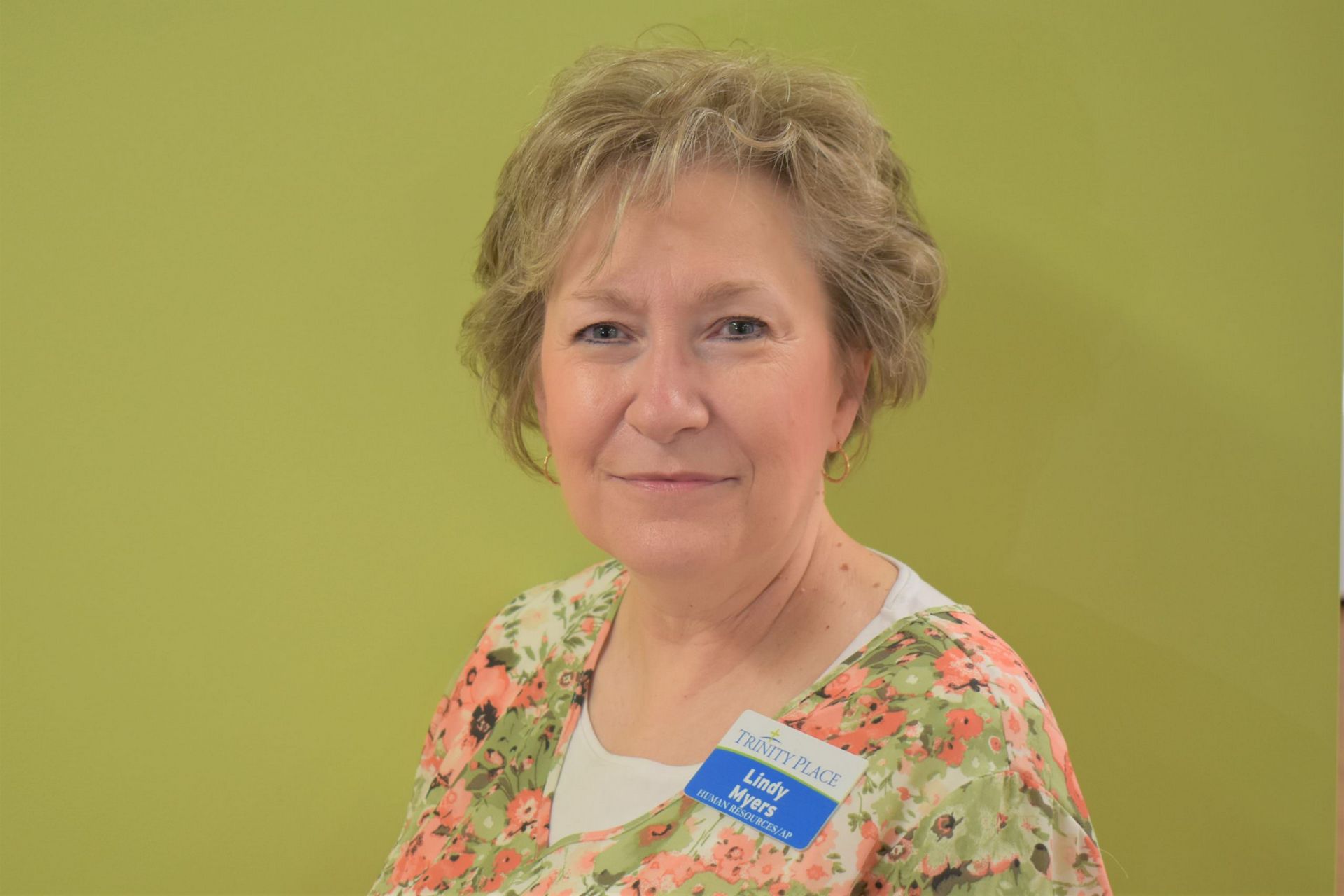 Lindy Myers
Human Resource Coordinator
Lindy, a native of Stanly County, has had the privilege of serving seniors in the community throughout her 38 years at Lutheran Services Carolinas. After many years of experience in the field of medical records and admissions, human resources has been her role for the last decade at Trinity Place. Lindy said it is a pleasure to work and serve with her fellow coworkers.
Angela Bennett
Director of Dining Services
Angela has 21 years of experience as a manager in food service amd has been a certified dietary manager (CDM) for 17 years. Before her career at Trinity Place, she worked for Southern Assisted Living as a trainer for special diets and a budget troubleshooter. She then worked at Brookdale Senior Living and Stanly Manor. Angela joined the team at Trinity Place in 2019 where she oversees all dining services. Angela believes that as a manager, it is her job to provide a strong team for the senior living community that can provide excellent service to the residents.
Rev. Ray Sipe
Chaplain
Pastor Sipe earned a Master of Divinity from Lutheran Theological Southern Seminary in Columbia, SC. He is an ordained Lutheran pastor and has served several congregations. He joined Trinity Place in 2013 as chaplain. He continues to serve in the community as an interim pastor and on the boards of several local non-profits. He also serves as an advisor to the chaplaincy training program at Atrium Cabarrus. Along with providing worship opportunities for the residents, he counsels with residents and their families as well as staff. He is an amateur radio operator and along with the local club, helps to provide communications for special events such as the Harvest Hustle and parades for Trinity Place.
Tammy Kepley
MDS RN
Tammy has been in nursing for over 20 years, working mostly in long-term care. She attended Stanly Community College and received her associate degree as a registered nurse. She began her career with Trinity Place as a licensed practical nurse (LPN)over 20 years ago. After attaining her license as a registered nurse (RN), she was promoted to first shift supervisor. In this position, Tammy managed all clinical operations on her unit. She then accepted a position in administrative nursing, as the MDS RN, a role she has been in for over 10 years. In her spare time, Tammy enjoys reading and traveling.
Adam Stirewalt
Maintenance Director
Adam Stirewalt has over 23 years working in healthcare construction and maintenance. He began his career in 1998 as a maintenance technician with a large healthcare system. In 2001, Adam was promoted into a supervisory role, which included maintenance management of outpatient surgical centers and ambulatory care centers. Adam was hired by Lutheran Services Carolinas in 2017 as the maintenance director for Trinity Place. In Adam's leisure time he enjoys flipping houses, time with family, and being outdoors.
Jeremy Almond
Staff Development Coordinator
Jeremy Almond is a registered nurse with more than 14 years of experience in providing care to the geriatric population. He started his career in geriatrics as a certified nursing assistant and completed his Associates Degree in Nursing from Stanly Community College in 2009. He received his BS in Nursing from UNC-Charlotte in 2017. Experience also includes, nurse supervisor and assistant director of nursing. In addition to staff development, he serves as the infection preventionist and QA Nurse. Jeremy's goal for Trinity Place is to provide a resident-centered, team approach to quality care.